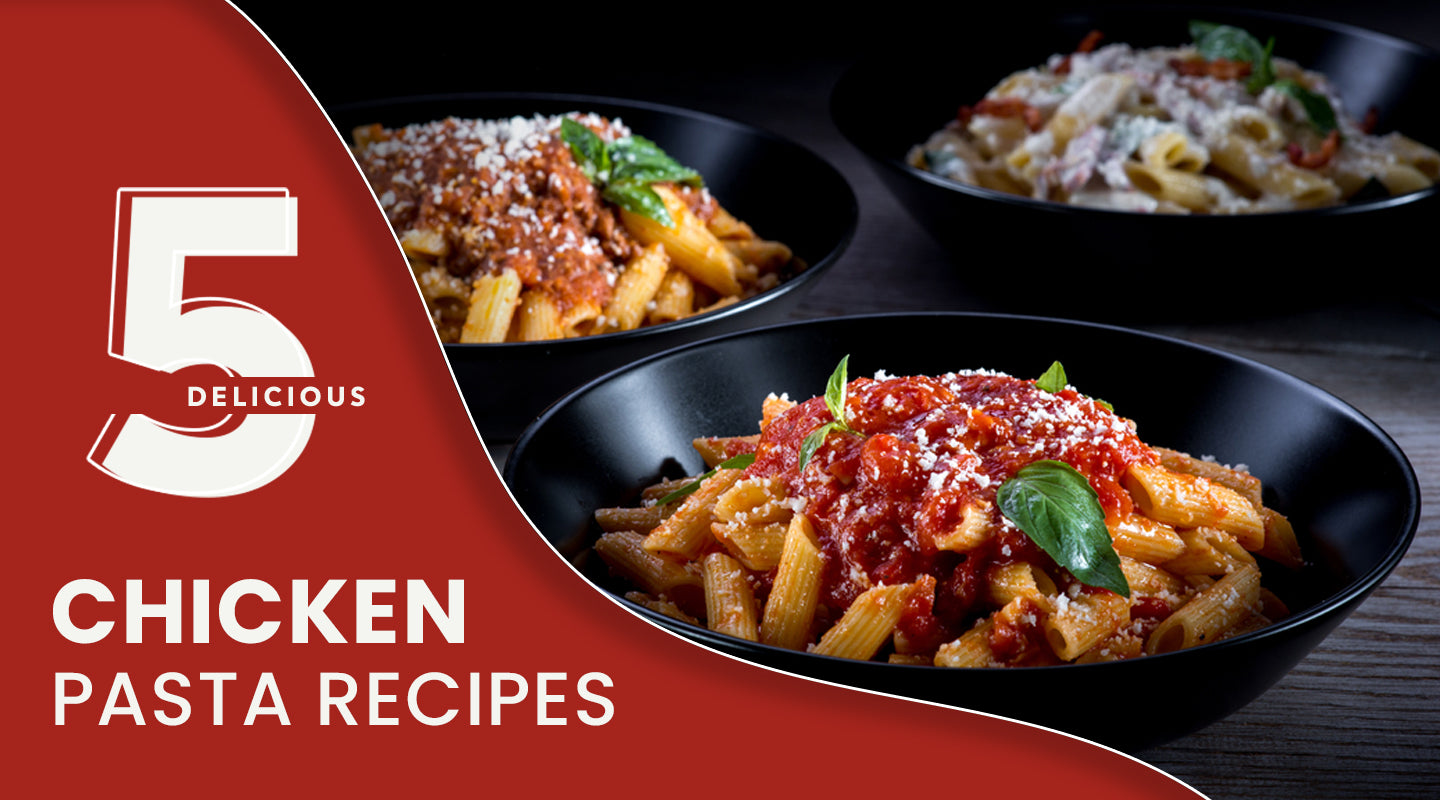 The weekend is here! After working hard for the entire week it's time to rejoice with some delicious food. Who doesn't love pasta? That delicious, creamy pasta loaded with veggies and sauces. Well, no doubt everyone drools over it. We are here for some interesting and easy pasta recipes to make your monsoon more exciting. From creamy Alfredo pasta to cheesy chicken pasta bake, we'll share 5 delicious recipes today.
Here are 5 easy chicken pasta recipes that are sure to please your taste buds.
1. Creamy  Chicken Pasta Alfredo
Combine the chicken breast, pasta, Alfredo sauce, milk, and Parmesan cheese in a large pot. Season with salt and pepper to taste. Bring to a boil over medium heat, stirring occasionally, until thoroughly heated. Serve hot.
2. Creamy Garlic Chicken Pasta
Season both sides of the chicken breast and cook it in olive oil. Sauté butter and garlic with fresh vegetables & tomatoes. Add heavy cream & parmesan cheese & Whisk until smooth. Season with salt and pepper. Drain the pasta and thinly slice the chicken. Combine them both in the pan. Serve!
3. Chicken Spaghetti
Cook Chicken Spaghetti in lightly salted water, stirring occasionally. Combine the chopped chicken, condensed soup, and diced tomatoes in a mixing bowl with the cheese, mushroom, salt, and pepper. Cook until the cheese melts. Serve hot.
4. One Pot Chicken Pasta
Heat the oil in a frying pan and add the onions. Then season with salt and pepper to taste. Mix in the garlic, tomato, and red pepper flakes with the pasta. Bring the milk to a boil. Cover the pan with a lid and leave it alone until the pasta is done. Pour some cheese on top of the pasta. Serve immediately.
5. Chicken Pasta
Add the pasta to boiling water, put some olive oil and mix well. Melt the butter in a separate pan and add the chicken, oil, garlic, chili flakes, and black pepper. Now add some vegetables (beans, carrots, etc.), salt, and chicken stock to taste. Cook them thoroughly before adding water. Thoroughly incorporate the cream. Incorporate the boiled pasta and shredded cheese. Serve immediately.