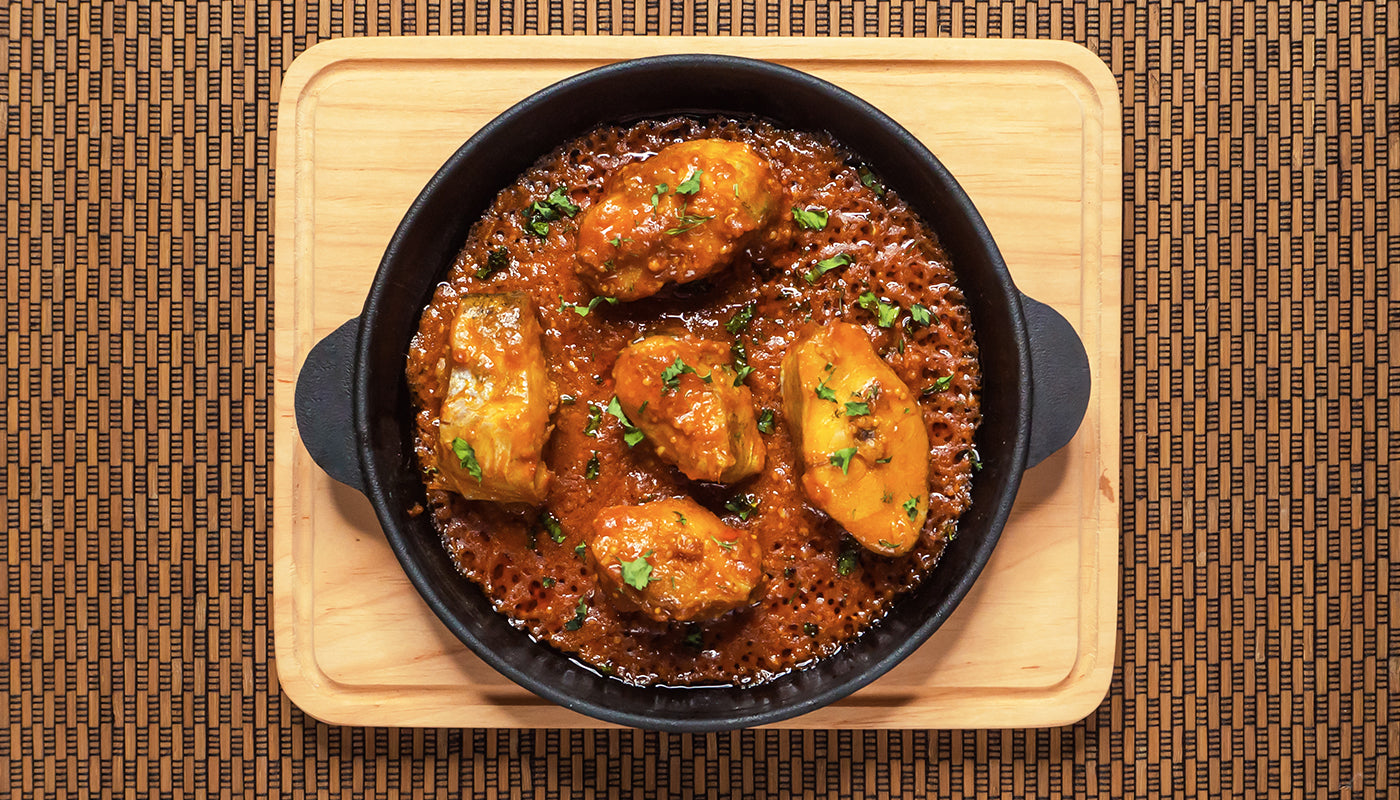 This Goan Fish Curry is spicy and sour and can be prepared in less than 20 minutes with simple ingredients.
What is Goan fish curry?
Goan Fish Curry is a spicy, tangy, and warm fish curry with a lot of coastal elements. It is a dish from Goa, an Indian coastal state known for its beautiful beaches, tropical climate, and delicious cuisine. Goan cuisine is steadily gaining popularity around the world due to its use of simple ingredients and intense tastes. Let's read to learn how to do it.
How to make Goan fish curry?
To prepare a delicious Goan Fish Curry, divide the cooking process into 3 parts. To begin, gather all of the necessary ingredients. Marinate the fish (surmai, pomfret, salmon, or tilapia) first. You can order freshly marinated pomfret from Green Chick Chop. 
Plain Surmai is available at Green Chick Chop. 
Wash the fish thoroughly with water, and season it with turmeric powder, salt, and fresh lime juice. Coat the fish well with the ingredients. Set aside the bowl for a few minutes. To make the masala paste for the fish curry, combine all of the ingredients in a mixing bowl. Make a smooth paste with cinnamon, dry red chilies, coriander seeds, fresh coconut, cloves, cumin seeds, garlic, and black peppercorns in a blender. For the curry, add green chilies, onion, tomatoes, red chili powder, tamarind paste, coconut milk & salt. Add fried fish cubes into the curry and serve hot & tasty Goan fish curry.
Prep time: 50-55 mins
Serve: 4
Ingredients
For fish marination
Fish 500 g

Lime juice

Turmeric powder

Salt to taste
For Goan masala paste
Cinnamon stick

1-inch

Whole

dry red chilies

8-10

Coriander seeds 2 tbps

Fresh coconut, grated 1 cup

Cloves v1 tsp

Cumin seeds 2 tsp

Garlic cloves 5-6

Whole Black peppercorns 1 tsp

water ¾ cup
For Goan fish curry
Tamarind paste

Coconut milk 1 cup

Tomatoes

Oil

Red chili powder

Green chilies

Onion finely chopped

Salt
Method
Marinate the Fish
Take a bowl & put boneless fish cubes

Now season with turmeric powder, salt and fresh lime juice and coat well.
Goan Masala Paste
In a blender, combine coriander seeds, cumin seeds, fresh coconut, dry red chilies, garlic cloves, black peppercorns, cloves, and cinnamon stick with ¾ cup of water to make a smooth paste.
For Fish Curry
In a pan, heat 3 tablespoons of vegetable oil over medium-high heat.

Place the marinated fish in a pan when the oil is hot and cook for 2-3 minutes on each side until lightly browned.

Take the fried fish out of the pan and place it on a plate.

Cook chopped green chilies in the remaining oil.

Add finely chopped onions, and cook until translucent.

Toss in the finely chopped tomatoes and the red chili powder in the pan. While preparing the curry, mash the tomatoes thoroughly.

Add the water and tamarind paste with the ground masala paste we made before, and stir well.

Cook for 7-8 minutes with the lid on the curry.

Mix thoroughly with coconut milk and water.
This dish will undoubtedly delight your taste buds. Serve this Goan fish curry with steamed rice, bread, or pav.