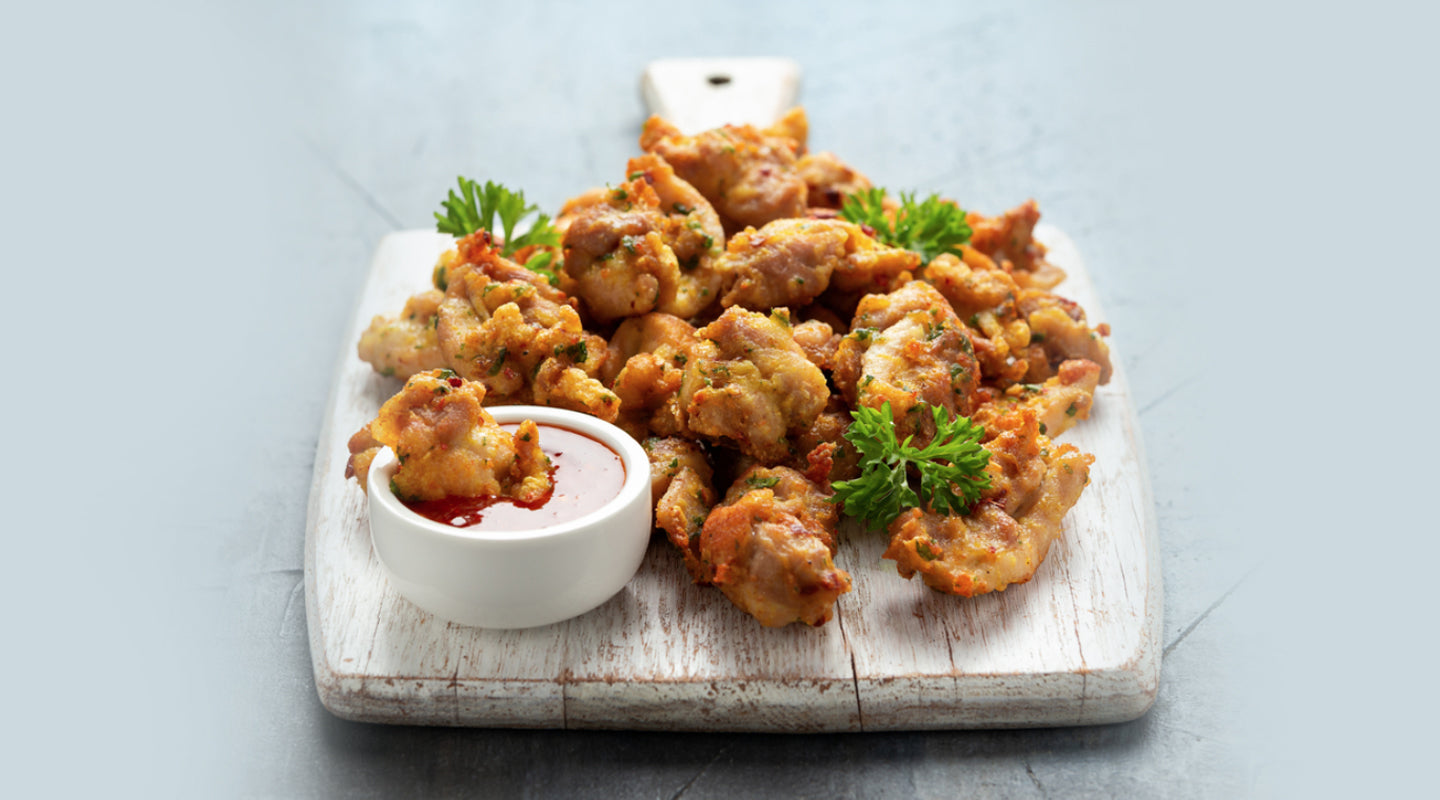 Crispy, spicy chicken pakora that you can make at home. Pakoras are the first thing that comes to mind when we think of a quick snack that goes well with tea. Isn't it? You can eat this on its own or serve it as an appetiser at house parties or family gatherings. The flavour and suppleness of these crunchy crisps are unmatched.
What is a Chicken Pakora?
Chicken pakora is a crispy, crunchy & flavorful pakora filled with tender chicken pieces, herbs & spices. To prepare chicken pakora you need gram flour, ginger, garlic, spices (in powder form), herbs & fresh chicken pieces. You can order chicken from Green Chick Chop.
Prep time: 10mins
Cook time: 45 mins
Serve: 4
Ingredients
Boneless chicken 250 gms

Ginger paste

Garlic paste

Red chilli powder ½ tsp

Garam masala ½ tsp

Salt

Gram flour

Egg 1

Red chilli powder

Salt

Oil
How to prepare chicken pakora?
Take a mixing bowl and add besan, turmeric, chili powder, rice flour, salt & garam masala. Mix all these ingredients perfectly. Be sure how much salt you want in the pakoras, you can add more as per your requirement.

Now add ginger garlic paste into the mixture and green chilies. And finely chopped onions (chopped onions will add the crunchy taste inside the pakora).

Wash the raw chicken properly and drain the water. Once the water is drained out completely, chop the chicken into bite-size pieces. Mix these pieces dwelleth the mixing bowl.

Pour an egg into the batter and mix well.

Add some water and stir well.
How to make chicken pakora?
Take a kadhai and add oil to it.

Now put the chicken bites slightly into the oil.

Fry these chicken pieces until they turn golden brown

Serve these chicken pakora with a hot cup of tea. You can also serve these crispy pakoras with green mint chutney available at Green Chick Chop.