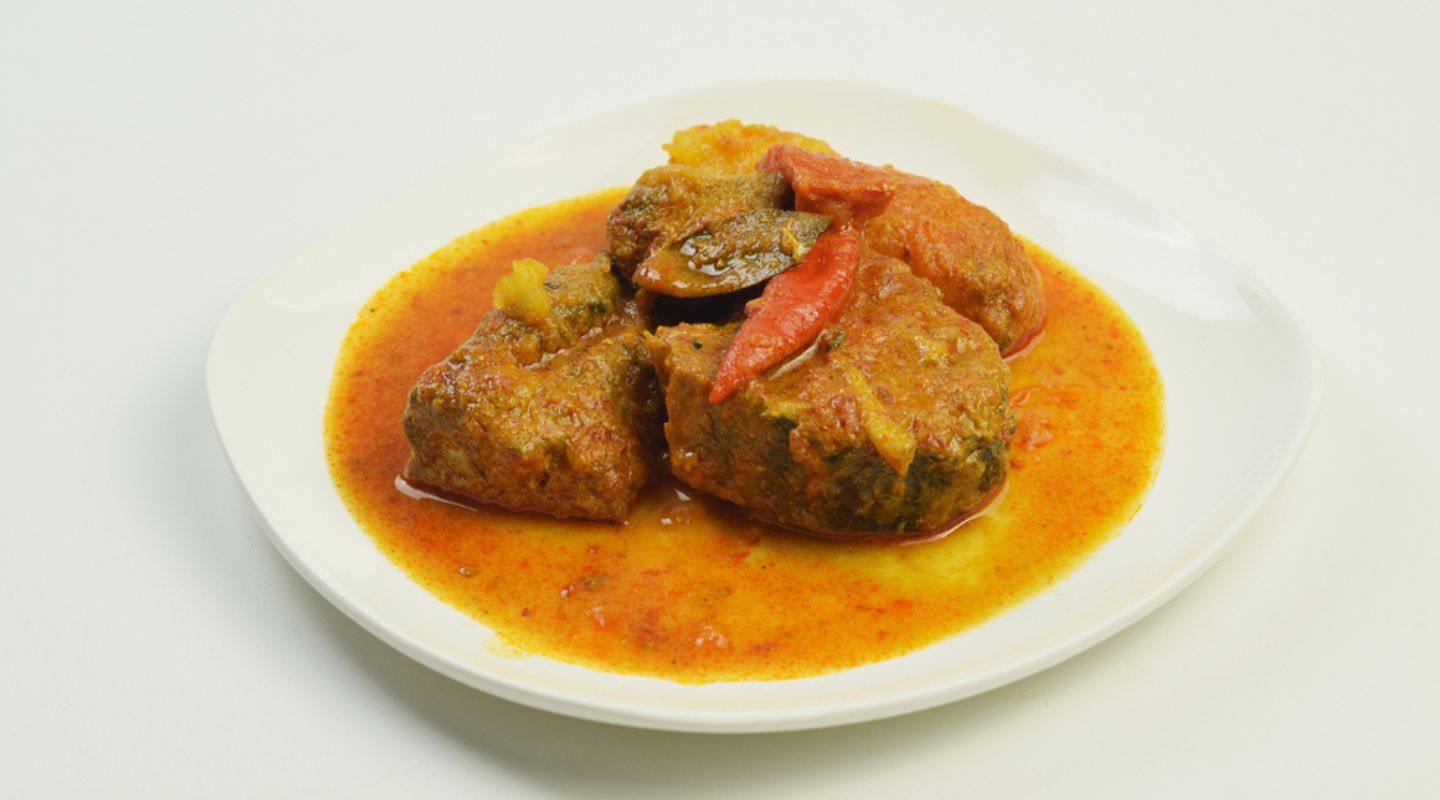 A vibrant yellow curry with creamy coconut, tangy lemongrass flavor, and tender white fish. Indonesian Fish Curry (Kari Ikan) is a delicately spiced dish that can be enjoyed on a weeknight with steamed rice or roti. This dish's yellow curry base has vibrant colors that are ideal for an impressive dish.
What is Indonesian fish curry (Kari Ikan)?
Kari Ikan, also known as "fish curry," is a famous Indonesian yellow curry. The vibrant color comes from the rich creamy coconut and turmeric base. The fish pieces are so tender that they will melt in your mouth leaving a creamy taste.
The spices for this fish needs to be prepared along with the fish preparation. But the fish won't take much time in cooking as it cooks faster with this recipe.
How to prepare for Kari Ikan?
To prepare this Kari Ikan, using flavored white fish fillets will be a good option, as they go well with this dish. You can use fish chunks or steaks also, it is as per your preference. Here are a few examples of white fish:
If you don't like fish or have tried this dish before, you can use fresh raw chicken as a substitute. Preparation for this dish would include a spice paste that would be used as a coating for the fish fillets. Chili powder, paprika, coriander powder, cumin powder, and turmeric powder will be used to make the spice paste. A herbal paste containing onion, garlic, ginger, and lemongrass stocks would be created using a blender. Once the paste(s) is ready. heat some oil in a saucepan & put the ingredients as directed in this blog.  
Prep time: 20-25 minutes
Cook time: 30 minutes
Serving: 4
Ingredients
Cooking Oil 3 tbsp

Curry Leaves (2 stems)

Cinamon Sticks (2)

Tamarind (2 tbsp(well diluted with water)

Kaffir Lime Leaves (4)

Galangal (3 slices)

Coconut Milk (2 cups) or coconut cream

Firm white fish

Tomatoes chopped (2)

Salt  (1 tsp)

Sugar  (1 tsp)

White Pepper (½ tsp)
For the curry
Chili Powder (1 tsp)

Paprika (2 tsp)

Coriander Powder  (1 tsp)

Cumin Powder (1 tsp)

Turmeric (½ tsp)
For the paste
Onion  (1 sliced)

Garlic (4 cloves)

Ginger (4 slices)

Lemongrass stocks (2)
Method
Make a smooth paste of the chili powder, paprika, coriander powder, cumin powder, and turmeric with about ⅓ cup of water. Keep it aside until other ingredients are ready.

Make an onion, garlic, ginger, and lemongrass paste in a blender.

In a saucepan, heat the oil and add the lemongrass and kaffir lime leaves, stirring for a minute.

Now add the paste and stir fry for 1-2 minutes, until it leaves are fragrant.

Coat the fish pieces into the paste and put them in the pan fry until a minute.

Cook the fish for 3-5 minutes in water.  Now add coconut milk and cook for another 5 minutes.

Enjoy the delicious, creamy Kari Ikan with steamed rice.