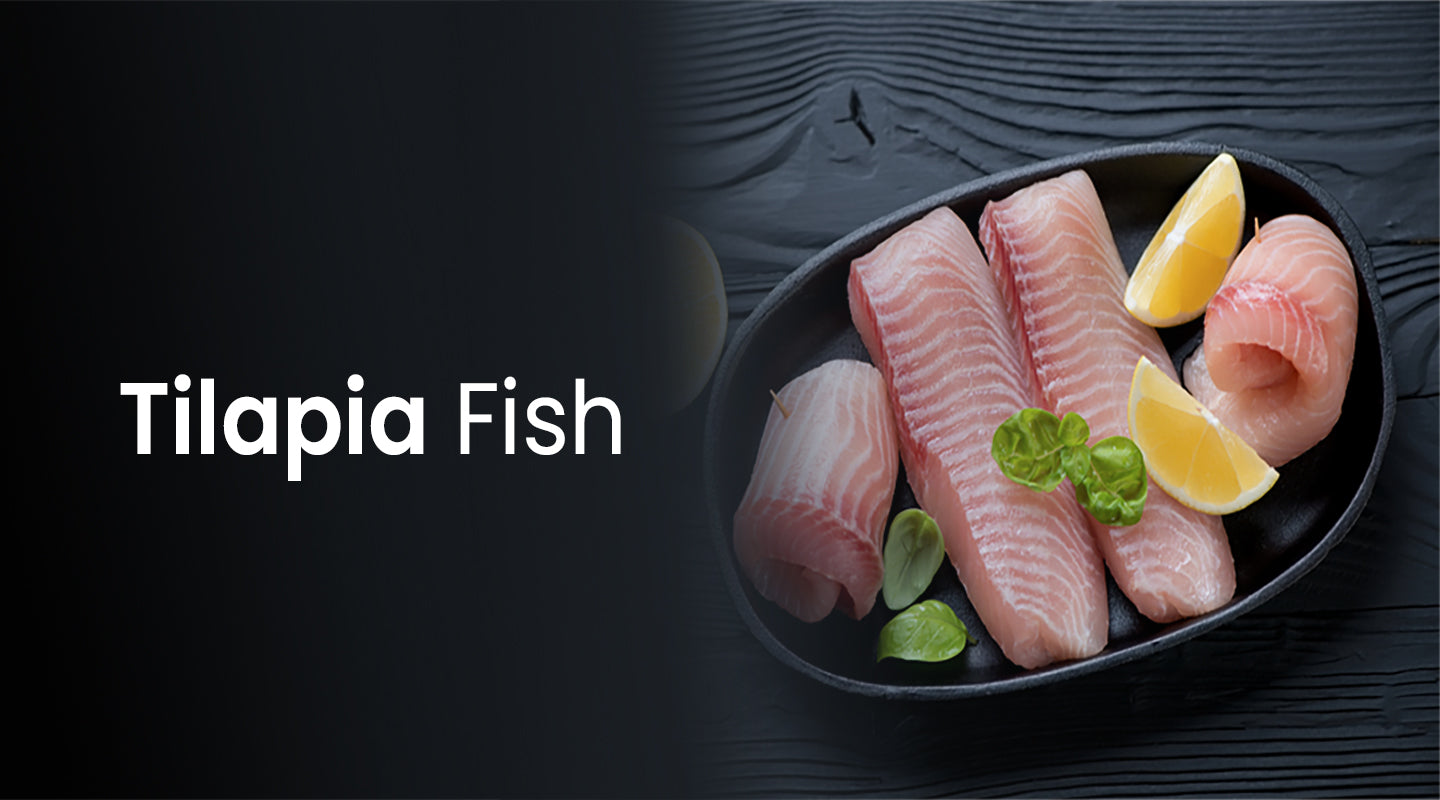 Fish is considered as a nutritious food around the world. Omega-3 fatty acids, which can be found in sardines, salmon, and trout, are one of the key reasons. Well, tilapia isn't far behind in the race, with various health benefits and the potential to be a solid source of protein regularly. It has a short body with long fins and small scales. It's a good fish for aquaculture because it breeds and grows quickly.
Tilapia Fish is a versatile, flaky white fish that is great for dinners or special occasions. It is popular due to its low cost, ease of preparation, and mild flavour. It has a sweet flavour that is enhanced by a pinch of salt and pepper. It's an excellent choice for busy weekdays because it can be cooked quickly.
What are the health benefits of Tilapia Fish?
Selenium is a mineral found in tilapia that can help prevent cancer, heart disease, and thyroid disease. A single tilapia fillet can provide 85 percent of the recommended daily selenium intake. The nutritional content of tilapia fish is great, and consuming it might help strengthen your bones.

Easy recipes you can make with Tilapia Fish
 Baked Tilapia
Baked Tilapia is a simple, no-fuss meal that can be prepared easily. This dish can be baked in an oven and served hot.
Tilapia Fish 4 fillets

Vegetables ( of your choice)

Butter 2 tsp

¼ tsp seasoning

Lemon 1 slice

Salt to taste
Preheat the oven to 375 degrees Fahrenheit. Place the Tilapia fish in the baking dish that has been greased. Brush the fish with butter and arrange the vegetables around the fillets. Do the seasoning now (of your choice). Season each fish fillet with a pinch of salt and the lemon. Using an aluminium sheet, cover the dish. Preheat the oven to 350°F and bake the tray until the fish and vegetables are soft. Cooking time will be 20 to 30 minutes.
Crispy Baked Tilapia Fish
Tasty and healthy cuisine in perfect harmony. Enjoy a crunchy breadcrumb-crusted coating.
Bead crumbs 1 cup

Olive oil 3 tbsp

Tilapia fillets 

Blavk pepper

Salt to taste
Preheat the oven to 475 degrees Fahrenheit. Place bread crumbs in a mixing bowl with 1 tablespoon olive oil. Place a baking sheet in the oven for 5 minutes, or until gently browned. Season the fillets of fish with salt and pepper. Place them on top of the bread crumbs. The crumbs should completely cover the fillets. Bake for 15 minutes and serve hot.
Hope, you found these recipes to be simple and fascinating. You can order Green Chick Chop's fresh and hygienically packed Tilapia Fish and explore the chef in you.